0% Interest Payment Plan available at checkout
Group starts January 15, 2023 
 In 30 days you can ...
➡ Change the way you feel
➡ Break your sugar addiction
➡ Reduce or eliminate pain
➡ Hit your fat loss goals
➡ Reshape your body
➡ Gain mental clarity
Bakery Goods on a diet??
Yep and are they ever good!

"If I can eat that food on a diet, I could definitely do 30 days!" - Brody W.

WE KNOW YOU'RE BUSY
So we're doing the heavy lifting this January!
This 30-Day program includes:
15 of our delicious Keto comfort food (full size) Mixes - Delivered to your door 
48-page illustrated book - your 30 day menu -- with recipes that you can use over and over again. 
LIVE kitchen sessions - Join Becky, creator of KetoBakes for  1 hour weekend prep sessions! Bake with us and hop on live to ask your questions. (recorded)
Daily video instruction - Stay on track with our private Facebook group for a plug-and-play system to simplify your lifestyle shift
Daily prompts - We'll post your daily inspiration, education, and what to eat so you don't get sidetracked by the busyness of everyday life
Caring community - Health goals happen faster and easier with a fun community cheering you on
On-demand answers - Don't stay stuck! Becky and team will be in the private facebook group each day answering your questions.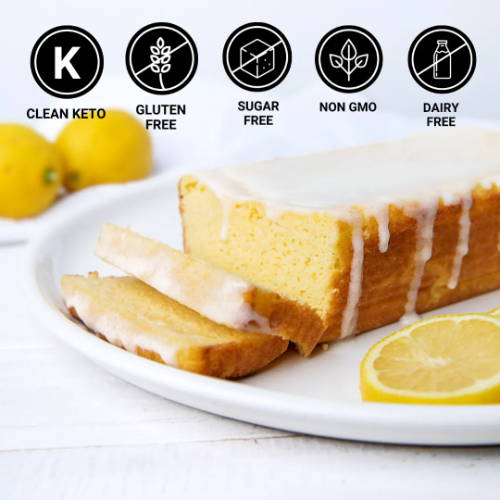 What comfort foods are in my box?

2 - Best EVER Buns Mix
2 - Buttery Biscuits Mix
1 - Pumpkin Cream Cheese Muffins Mix
1 - Iced Lemon Loaf Mix
1 - Chewy Chocolate Chip Cookies Mix
1 - Golden Waffles Mix
1 - Dreamy Vanilla Ice Cream Mix
1 - Frosted Fudgy Brownie Mix
1 - Butterflake Pie Crust (Quiche)
1 - Frosty Chocolate Ice Cream Mix
1 - Snickerdoodle Cookies Mix
1 - Pizza Crust Mix
1 - Frosted Cinnamon Rolls Mix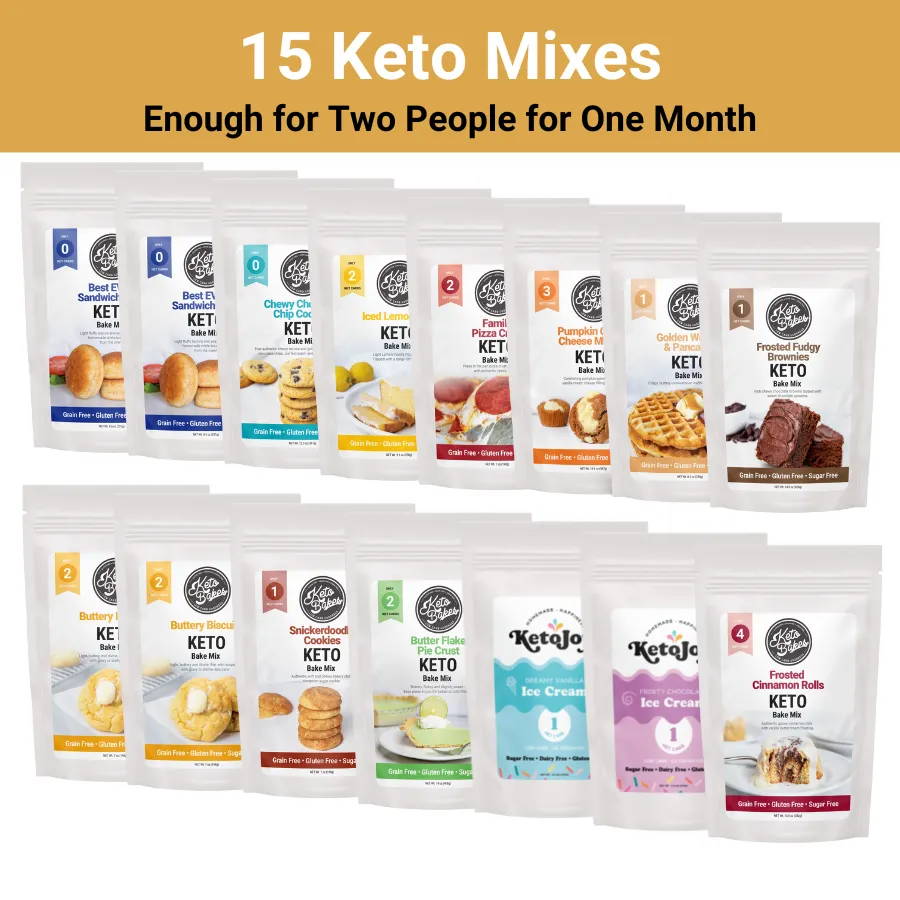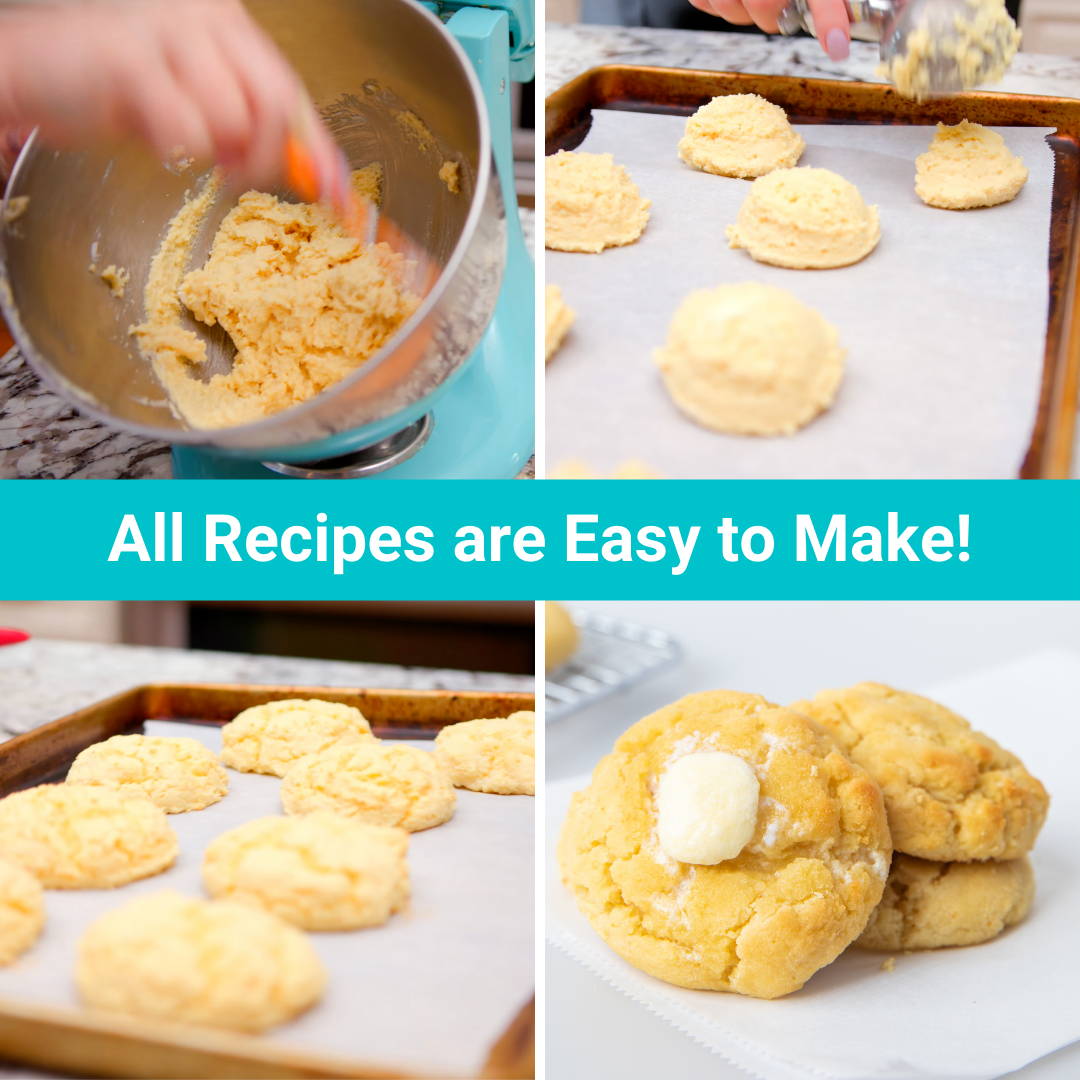 2 filling, balanced meals per day
Centered around moderate protein (to build muscle) and healthy fats (to fuel your brain!)
Staying under 20 net carbs per day
No calorie counting
Focus is on shifting from glucose burning to fat burning
No calorie counting (range 1100 - 1600 calories per day - and more for larger people)
Clean keto + Low carb + gluten free - we show you which foods will enhance your health and not add to toxic load
No cooking or baking skills necessary

We are 100% Natural
Clean Keto
Gluten Free • Dairy Free
Grain Free • Starch Free
Wheat Free • Soy Free
Sugar Free
Artificial Sweetener Free
NON GMO



We adopted the keto lifestyle after multiple health issues surfaced in our family and found ourselves making all our low carb foods from scratch.
We're sharing our family favorites with you! They're easy to bake and so delicious that our own family asks for them daily!
If you're not deliriously happy we will gladly refund you.
See our 90 Day Satisfaction Guarantee.
 


Balanced blood sugar levels are important because increased blood sugar can lead to anxiety, brain fog, low energy, extra body fat and metabolic disorders.
That's why all of our products are formulated to be very low net carb count with little to no impact on blood sugar levels. Experience REAL LIFE!
Each product is only
0g net carbs - 4g net carbs per serving