TASTES AMAZING ... MINUTES TO PREPARE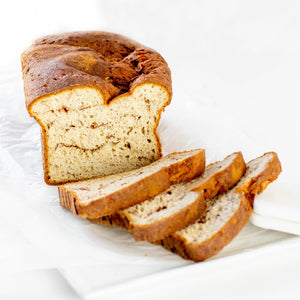 "LOOOOVE this company!  They gave bread, cookies, pizza crust, and biscuits back to my daughter, who has type 1 diabetes and celiac.  Their products are so healthy, taste great, and are extremely blood sugar friendly.  Game changer! "
Easy Cinn Swirl Bread Mix
Our commitment is to clean ingredients (organic as much as possible) and absolutely --NO GLUTEN or STARCHES.
Made in a dedicated gluten-free facility. Celiac friendly.
Easy Bun Mix
Our goal is to surprise and delight your taste buds! For example our sweets have no cooling sensation or weird keto aftertaste. We use a pure and natural zero carb blend that tastes like sugar! No artificial sweeteners. Diabetic friendly.
Easy Cookie Mixes
CLEAN KETO
"Up until now it has been virtually IMPOSSIBLE to find low-carb, gluten-free and starch-free products in the marketplace.
The biggest problem with breads that are labeled "keto" is that manufacturers will add wheat gluten and starches for structure! That is not acceptable to us."
Becky Potterbaum, Product Developer & Founder
Gluten Free, Wheat Free, Starch Free
Get this bread!!!
Kimberlie A on Nov 11, 2022
I'm an RN and our family follows a low carb diet. I was missing toast. This makes the best toast to go with my coffee in the mornings. My 37yo son and 6yo granddaughter are T1Ds and thanks to KB they can enjoy many of your products without affecting their BG!"
EASY Bread Mix
Free shipping on all domestic orders over $59.
Keto for Life
We can't tell you how many people have told us "Keto was SO hard for me! I tried, but fell off the wagon."
They wanted the wonderful benefits of the Keto lifestyle ...fat loss, mental clarity, more energy, decreased inflammation etc... but the way of eating was just too hard to maintain.
Our family has been on Keto for 5 years now because we've found life could feel a little more normal with sandwiches, cookies, pizza and birthday cake!
If you were to LOVE what you eat, every day, how long could you sustain this low-carb lifestyle?
KetoBakes = Gamechanger
Shop KetoBakes
Testimonials
My T1 diabetic daughter LOVES Best Ever Sandwich Buns - she tells me it's her absolute favorite!  We have tried several recipes from the internet, many of which upset her tummy. No upset tummy here! And this bread keeps her blood sugars flat with no delayed rise!

Jackie Z.
Best keto bread I've tasted. And I've tasted a lot. I just made a $350 order. We've had the Sandwich buns, lemon loaf, chocolate chip cookies, brownies, waffles, biscuits, vanilla and chocolate cupcakes with chocolate frosting and cinnamon rolls. I think we've tried and ordered a 3 pack of everything. If you're on the fence about any products from KetoBakes don't hesitate. Order. They are fabulous!

Shaun Ladd
KetoBakes,  I'm amazed with the quality of your products. You've really managed to transcend all other keto baking  mixes... we've tried a lot. Thank you!

Athena Levesque
My parents own a specialty low-carb chocolate company so I've had my share of clean, low-carb desserts in my day...but this chocolate cake is the BEST! So rich and moist. I wouldn't even know it's healthy, let alone low-carb and gluten free. Thanks for making my birthday special!

Tara
I made the bread. It's delicious and very easy to make. I'm a happy customer!

Danny F.
Mix

into fresh keto ingredients
Mix
into fresh keto ingredients
Our Story
We adopted the Keto lifestyle after multiple health issues surfaced with our big family... my husband was getting shots for pain in his joints...
Read More